Topics of No.5 (December, 2010)

New rail link eases access to Bangkok's Suvarnabhumi Airport and alleviates metropolitan traffic congestion
The State Railway of Thailand launched a rail link project to alleviate heavy traffic congestion in metropolitan Bangkok and improve access to Suvarnabhumi Airport. The line runs along a top-priority route of a master plan for metropolitan Bangkok's transit system. The plan was initiated in 2000 with funding from a Japan Bank for International Cooperation unit that later merged with the Japan International Cooperation Agency). The roughly 28-kilometer rail link began operations on August 23, 2010. The route encompasses a 26-kilometer elevated section with double tracks, a one-kilometer ground section, and a one-kilometer tunnel (with an underground station) to the airport terminal. Services consist of the commuter City Line, which stops at each station, and the non-stop Express Line. Passengers can check in their luggage at Makkasan SARL Station's city air terminal before departing for the airport. Work continues on extending the line and constructing new ones, and Oriental Consultants Co., Ltd., looks forward to further business.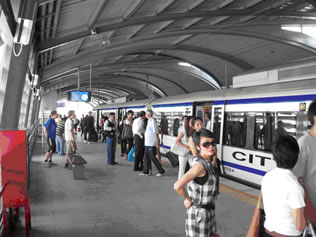 Collaborating with Engineers Without Borders to continue providing technological education for disaster prevention following earthquakes and other calamities
Indonesia ranks alongside Japan as highly prone to earthquakes. This southeast Asian nation has experienced large quakes frequently in the past few years that have resulted in considerable damage. Although Indonesia has done much to reinforce its disaster-prevention infrastructure, partly with foreign assistance, it has lagged in educating and training facility operators. Taisei Kiso Sekkei Co., Ltd., is working with Engineers Without Borders there to improve the disaster-prevention awareness of everyone from Indonesia's civil engineers to its general public. That company will continue to provide technological education in that nation.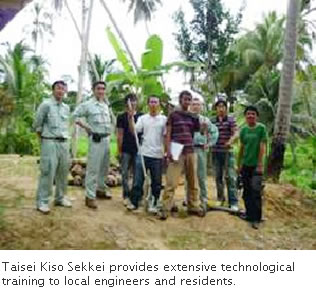 Proposing a long-term maintenance and management policy for prefectural park bridges
A-TEC Co., Ltd., inspected pedestrian bridges within the Iwami Seaside Park (the Hasshi Tower Bridge, the West and East Guy-Wire bridges, and the Marine House Bridge) to assess their soundness. That company also proposed measures to extend service lives and reinforce seismic resistance as part of a proper maintenance and inspection system and submitted a policy for long-term maintenance and management. A-TEC produced plans for extending service lives over the next decade, formulated key subsequent measures, provided construction timing and budget estimates, and calculated life cycle costs.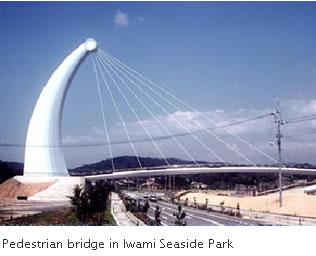 Proposing ways to cut water supply costs by harnessing wells and receiving order to manage plant construction and maintenance
Asano Kenko Co., Ltd., delivered an in-house water system to the food processing center of a leading department store chain. The system harnesses water from an on-site well, and has halved the costs of the roughly 3,600 square meters of water that the center consumes monthly. As well as managing plant construction, that company concluded a facilities maintenance contract for the next nine years, and will contribute to ongoing efforts to further reduce water costs.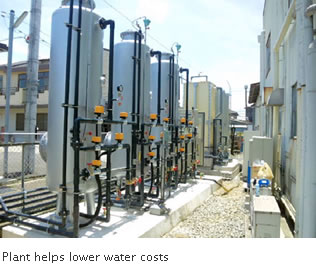 Developing integrated water supply engineering design and maintenance system with Chuou Sekkei Engineering
Yoshii System Research Co., Ltd., completed a system that combines our strengths in quantity survey and systems development technologies and the water supply capabilities of Group company Chuou Sekkei Engineering Co., Ltd. The system integrates water supply engineering and quantity survey systems under a comprehensive waterworks management setup. This setup can therefore comprehensively handle everything from water supply engineering design to facility management support.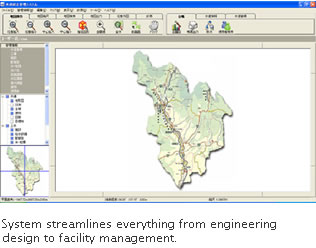 Holding self-assessment and career development course for senior officials of Japan Ground Self-Defense Force
Senior officers of the Japan Ground Self-Defense Force (JGSDF) must retire at 56. Many seek new professions in the private sector. Before retirement, officers take a one-month operational management course to acquire business skills. The JGSDF included the Harrison Assessments service of Ories Shared Service Co., Ltd., in the curriculum to help officers identify their behavioral patterns and draw on their resources to explore new career opportunities.