Topics of No.17 (September, 2021)

[India]
Building a Convention Center to Support Intellectual and Cultural Activities
Following the India-Japan Summit Meeting in December 2015, Japan provided aid to the city of Varanasi to build the Varanasi International Cooperation and Convention Centre to symbolize friendship between the two nations. Indian Prime Minister Shri Narendra Modi named the 1,200-seat main hall with stage set-up Rudraksha to symbolize wisdom. Oriental Consultants Global Co., Ltd., managed the joint construction venture for the facility. In that capacity, it provided project consultancy services that extended from research and design through construction supervision and support for theater operations and maintenance. Fujita Corporation was the construction contractor. The work finished successfully despite a temporary suspension owing to the COVID-19 pandemic.
Officials at the opening ceremony in July 2021 included Mr. Modi, Yogi Adityanath, Chief Minister of the state of Uttar Pradesh, Ambassador of Japan to India, and Chief Representative of the Indian unit of the Japan International Cooperation Agency (JICA). Japanese Prime Minister Yoshihide Suga delivered a congratulatory video message.
Varanasi dates back 3,000 years, making it one of the world's most ancient living cities. It developed as a religious and cultural center. UNESCO designated it a City of Music in 2003. The city has traditionally lacked an adequate infrastructure for exchange initiatives. Hopes are high for Rudraksh to host international conferences and cultural and artistic events that foster exchanges between intellectuals and artists and their development in Varanasi while contributing to the city's economic progress through tourism.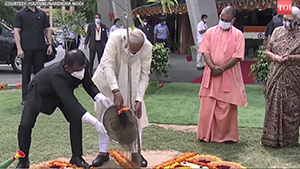 [Nepal]
Completion Ceremony Held for Patan Secondary School as Part of Emergency School Reconstruction Project
In 2015, an earthquake struck northwest of Kathmandu, Nepal's capital, destroying learning facilities for almost one million students. JICA responded by undertaking a yen loan project to rebuild and quakeproof 27 schools in six districts that suffered catastrophic damage. Oriental Consultants Global played a key role in this project. Khadga Prasad Sharma Oli, Prime Minister of Nepal, attended the completion ceremony for the Patan Secondary school was held in April 2021. The reconstruction replicated the façade of the school prior to the disaster to preserve its historic character as the country's second oldest school. The modern interior design blended with the traditional exterior. To date, reconstruction of 228 schools has finished. All rebuilding is slated for completion next fiscal year. We will keep contributing to Nepal's development through this project.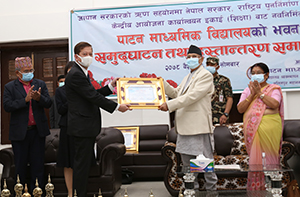 [Bangladesh]
Contributing Significantly to Social Development through Bridge Construction and Renovation
Bangladesh rivers have serious scouring problems during flooding. Existing bridges deteriorated and needed urgent repairs along National Highway No. 1 connecting Dhaka, the capital of Bangladesh, with Chittagong, the nation's second largest city and an important port. Increased traffic exacerbated congestion, so it became necessary to swiftly build new bridges without halting traffic. Oriental Consultants Global oversaw the joint venture for this project. Minimizing on-site work shortened construction. Deployments and transfers of advanced Japanese construction techniques improved bridge durability while helping lower maintenance costs in the years ahead. In May 2021, the Japan Society of Civil Engineers awarded the project a Group II Outstanding Civil Engineering Achievement Award for significant contributions to civil engineering and society in Bangladesh through the deployments and transfers of numerous Japanese construction techniques.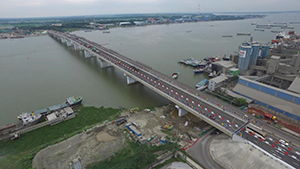 Undertaking Environmental Improvements to Enhance Usage of Prefectural Airport Park
Oriental Consultants Co., Ltd., and Asakawagumi Co., Ltd., signed a basic agreement with the town of Shirahama in Wakayama Prefecture, initiating a project to develop and run a business facility in the Nanki-Shirahama Airport observation space (Airport Park). This project in cooperation with Nanki-Shirahama Airport, Inc., will provide three key benefits. First, it will attract information and communication technology companies. Second, it will improve convenience for airport users. Third, it will revitalize the community by promoting workations. The new facility will mainly comprise seminar and conference rooms. Much of the structure will employ wood that grows extensively in the prefecture. The structure will look like the roof of the famed Kumano Hongu Taisha shrine, harmonizing with the airport terminal building that is under construction and hopefully becoming a prominent regional location. The facility is slated to open in June 2022.
Oriental Consultants additionally concluded a comprehensive cooperation agreement with Nanki-Shirahama Airport and JAG Energy Co., Ltd., to install solar generating facilities as a contingency to maintain services in the event of a Nankai Trough Earthquake or other disasters. Under regular circumstances, these facilities will streamline power consumption and contribute to decarbonization by incorporating renewables in the energy mix. We look to expand the deployment of such an eco-friendly setup to Shirahama and the entire south of Wakayama and build a micro-grid for sharing surplus power across the region.
Artist's view of the facility next to new airport terminal building
Designated by Japan's First Tender Selection Project that Include Planning
In April 2018, local general contractor Yamato Inc., Oriental Consultants, and Oriental Gunma Co., Ltd. jointly set up a special purpose company called Road Station Maebashijobu. In December 2018, this company concluded a private finance initiative special business contract with Maebashi City. This was for a project to develop and operate the Maebashi Akagi Roadside Station under what is simultaneously a public-private partnership between the city and the operator and a private finance initiative. This was the first instance in Japan of selecting a business operator from the basic planning stage and having that operator oversee design, construction, and operations.
The seven-hectare Maebashi Akagi Roadside Station is at the junction of the Jobu Road, along which people from outside the city and prefecture travel, and National Route 17, which is largely for people within the city. The facility is scheduled to open in December 2022 as a new gateway to Maebashi, connecting the natural environs of Akagi with urban Maebashi. The project will help revitalize the region by promoting agriculture and tourism.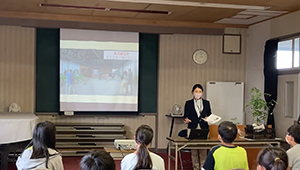 Promoting the roadside station at a local elementary school event

Supporting Project Studies, Verification Projects, and Other Initiatives
In December 2020, the Japanese government launched an initiative called Smart JAMP (an abbreviation for Smart City supported by Japan ASEAN Mutual Partnership). The first project under that setup was to develop a master plan for Luang Phabang in Laos. This provincial city is a UNESCO World Heritage Site, with a population of around 100,000. It is resplendent in historical architecture and offers beautiful natural surroundings. The number of tourists is expected to soar following the scheduled opening of the China-Laos high-speed railway at the end of 2021. There are also concerns about damage to the environment and landscape and problems with waste. This initiative is therefore employing Japanese technology to promote smart plans that resolve local issues.
Oriental Consultants Global established the Environment and Smart City Department in October 2019, through which it has developed related businesses worldwide. In fiscal 2021, it secured six Smart JAMP orders from Japan's Ministry of Land, Infrastructure, Transport and Tourism. Oriental Consultants Global is working on smart city initiatives in Jakarta, Bangkok, Cebu, and Phnom Penh.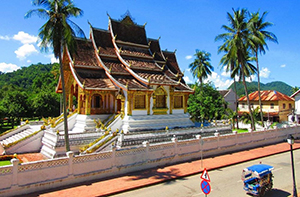 Buildings underscore the impressive history of Luang Phabang

Helping Revitalize and Create Jobs in Underpopulated Mountainous Areas
Chuou Sekkei Engineering Co., Ltd. established subsidiary Hakusan Senami Co., Ltd.in October 2015. In April 2016, Hakusan Senami began operating a campground where people can barbecue, play in the river, and bath in steel drums. Also, there are fun events in the Senami River and educational activities, such as having elementary school students release Japanese fluvial sculpin there. The rare spring ephemeral plant has made a comeback in the area as a result of conservation efforts, featuring in an NHK television program. Many visitors are still visiting the area to study these plants.
In July 2018, Hakusan Senami concluded a concession agreement for the Furusato Recreation Center, a hot spring facility in Hakusan, and began operating it as Senjo Onsen Seiryu. The facility is popular among families for its day-trip bathing, esthetic treatments, and fishing pond. Hakusan Senami is contributing to create local jobs, including to maintain mountain trails and manage waterways and suspension bridges. The company will continue striving to foster the local community and safeguard the environment.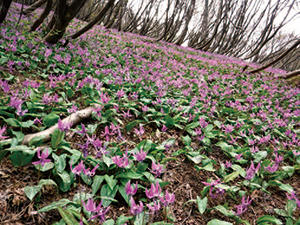 Spring Ephemeral growth along a well-maintained trail is a fruit of conservation efforts.

Participating in Carbon Neutrality Feasibility Project
Asano Taiseikiso Engineering Co., Ltd., established subsidiary Oita Geothermal Development Co., Ltd. in 2013. The company is developing renewable energy using mainly geothermal power, and generating power, in Kokonoe, Kusu district, Oita Prefecture.
With local community support, the company confirmed in 2019 that it could construct and run two power plants. Power generation will not start until at least 2024. In the meantime, Oita Geothermal Development has embarked on efforts to attain carbon neutrality by drawing on its experience to offer consulting services to support renewable energy development projects and participate in hydrogen production feasibility studies that Obayashi Corporation and Shimizu Corporation are conducting, respectively.
In July 2021, Oita Geothermal Development began operating a green hydrogen plant employing geothermal power in collaboration with Obayashi. This setup will be a first in Japan, with almost no carbon dioxide emissions resulting. A feasibility study will assess controls of delivery processes to supply users.
We will continue undertaking renewable energy projects for regional development while harnessing our deep bedrock survey techniques and expertise.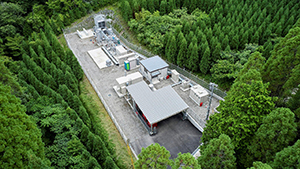 Panoramic view of green hydrogen production plant employing geothermal power

Reducing Infection Risks in Mountain Sightseeing
Mountain sightseeing operations will need to adopt measures to minimize the risks of COVID-19 infections from close proximity when people travel in buses and shared cabs or using mountain lodges and rest areas. Dealing with reservations and other procedures can be very complicated, deterring people from traveling. It is thus necessary to deploy comprehensive reservation systems that eliminate hassles.
Oriental Consultants subsidiary Minami Alps Gateway Co., Ltd., therefore joined hands with the Minami-Alps City Sightseeing Association and Research & Solution Co., Ltd., to develop the Minami-Alps Sightseeing Reservation System. This setup became operational in May 2021. It enables online reservations, cashless payment, and smart check-ins at mountain lodges in the region, reducing infection risks and improving user convenience and service quality. We look to create a comprehensive digital transformation platform, including for souvenir sales and mail-order sales of local produce.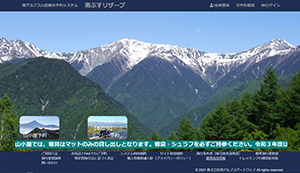 Screenshot of the Minami-Alps Mountain Sightseeing Reservation System, which enhances reception, reservation, and payment convenience