Topics of No.16 (September, 2020)

[Indonesia]
Completing North-South Corridor Project's Mass Rapid Transit Railway System to Eliminate Jakarta's Traffic Congestion
Indonesia's rapid economic development in recent years has plagued metropolitan Jakarta with traffic gridlock around the clock, as the number of registered cars and motorcycles outstripped road capacity. While railway lines surrounded the capital, there were none in the center of the city. Japan and Indonesia accordingly undertook to alleviate congestion by rolling out the North-South Corridor Project. Funding for this initiative was through Japan's Special Terms for Economic Partnership program.
Surveys for the project started in 1996 to determine subway lines and station locations. Phase 1 routes and stations were determined in 2010. Contractors were selected from international bids in 2012. Construction started in August 2013. This was the first railway project in which Japanese companies received orders for the entire package, from underground and elevated civil engineering and railway system and track construction through rolling stock procurement. Participants in this project received appreciation plaques from owner PT Mass Rapid Transit Jakarta. The project also won a 2019 Outstanding Civil Engineering Award from the Japan Society of Civil Engineers.
Joko Widodo was reelected president of Indonesia in April 2019. The subway began operating a month before that. Passenger numbers rose, reaching 90,000 daily before the pandemic. Service is from 5:30 a.m. through midnight. There is one train every five minutes during rush hours. What would be a journey of more than two hours by road is just 28 minutes by subway, making it a popular way for users to reach their destinations on time. Some phase 2 construction for a line extension has already begun. We will continue helping to further alleviate traffic congestion and improve public transportation convenience.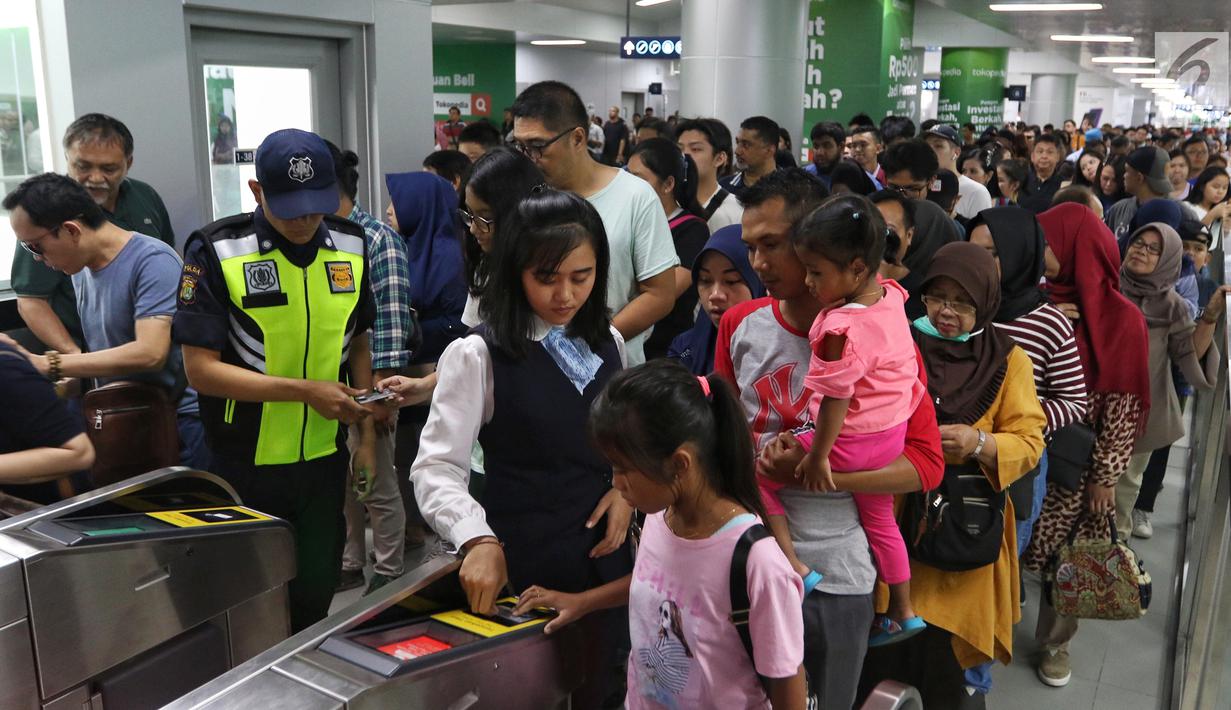 [Bangladesh]
Easing Traffic Congestion by Replicating Three Bridges and Renovating Existing Structures
The Kanchpur, Meghna and Gumti bridges along National Highway 1 connect Dhaka, the capital of Bangladesh, with Chittagong, the country's biggest international port. Road traffic increased with economic development, exceeding traffic capacity and necessitating solutions. Although the government widened roads, it lacked funding for bridges. Another challenge was that riverbed scouring exposed the foundations of these three bridges, while superstructures were damaged owing to insufficient maintenance, causing congestion. A government request led to the launch of a yen loan project to replicate these three bridges and renovate the existing structures.
Oriental Consultants Global became involved from the feasibility study stage and oversaw a joint venture that provided detailed engineering, construction supervision, and other consulting services. The project was completed within the contracted four years. The joint venture partners were Obayashi Corporation, Shimizu Corporation, JFE Engineering Corporation, and IHI Infrastructure Systems Co., Ltd. They employed narrow steel box girders and steel pipe sheet pile well foundations, which are techniques unique to Japan.
Officials attending the completion ceremony on February 9, 2020, included Obaidul Quader, Minister of Road Transport and Bridges, Nazrul Islam, Secretary of the Road Transport Division, Naoki Ito, Japanese Ambassador to Bangladesh, and Hitoshi Hirata, chief representative of the Bangladesh Office of the Japan International Cooperation Agency. This project will contribute significantly to Bangladesh's economic development by alleviating traffic congestion on National Highway 1 and shortening journeys.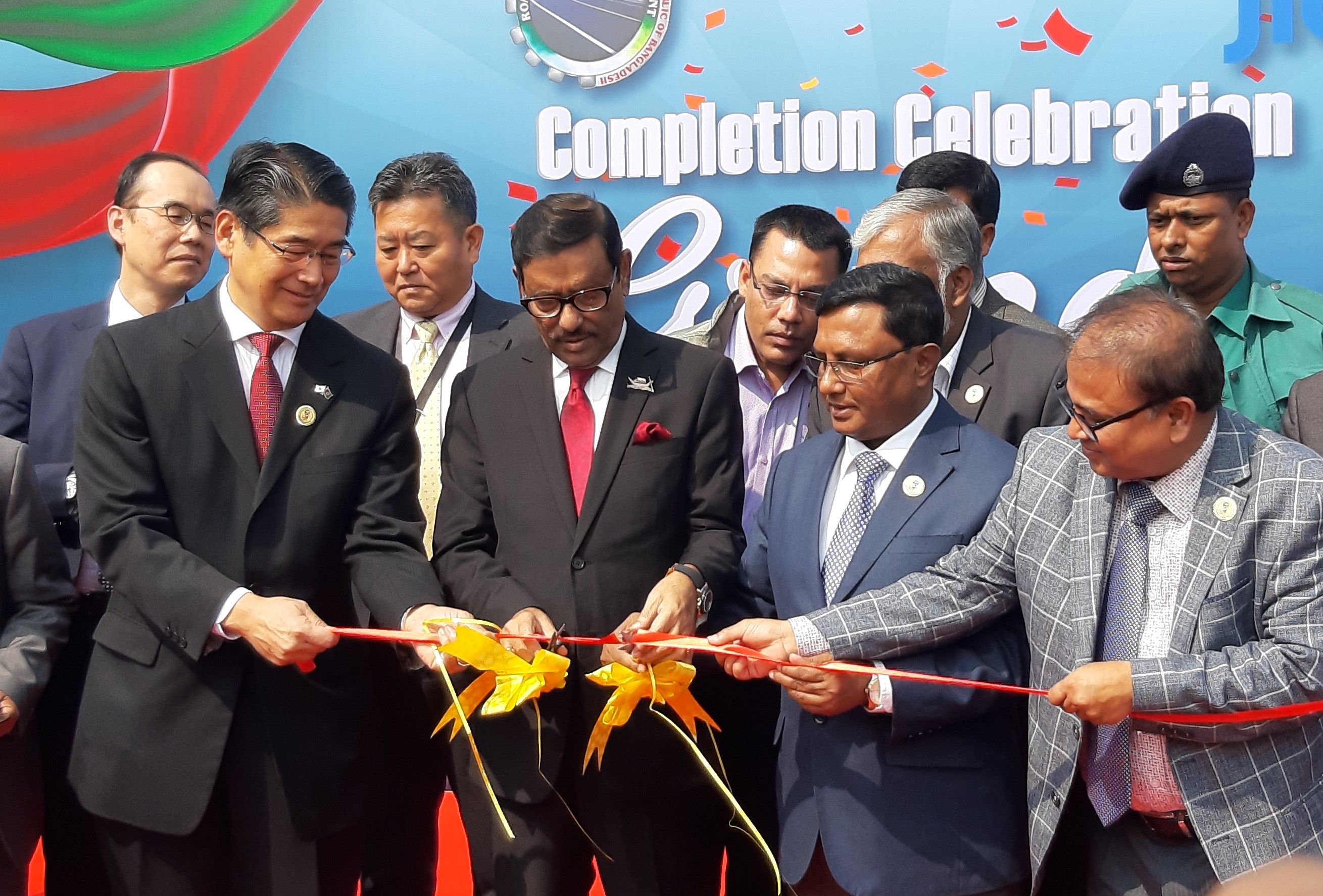 Evacuation Program to Safeguard Residents from Disasters
Okutama, Tokyo, has many landslide disaster warning areas. More than 40% of its residents are elderly. Around 800 of its people use care facilities, making it vital to assist in evacuating such individuals during emergencies. We created a hazard map that color-codes evacuation shelters available to those needing care and enables people to check their own houses. We formulated an evacuation action plan that enables the elderly and others to evacuate quickly to higher areas of structures.
In 2018, we installed a landslide warning and support system as a social experiment with the Okutama municipal government and Halex Corporation. The goal was to centrally manage hazard maps and weather information and visualize risks. We are providing comprehensive support, including through communication drills and evacuation drills to higher floors at local hospitals and eldercare facilities, and have installed simple, artificial intelligence-powered surveillance cameras to monitor river levels in real time.
The mayor of Okutama reported on these activities in a very well received presentation at the 2019 Disaster Prevention Symposium, which the Japan Emergency Management Association hosted.
Personnel conducting vertical evacuation drill for care facility users

Enhancing National Disaster Prevention System to Improve Safety and Security
Major earthquakes occur frequently in Mongolia, particularly to the west. Recent years saw the discovery of three active faults in suburban Ulaanbaatar, the capital. This heightened concerns about quake vulnerability. Oriental Consultants Global managed a consortium of four companies from 2016 through 2019 in an overseas development aid project to help Mongolia's National Emergency Management Agency boost earthquake preparedness by drawing on Japan's extensive disaster prevention expertise.
Prime focuses in enhancing capacity were to set up a legal framework and plan disaster prevention measures, undertake antiseismic construction, and educate about disaster prevention. Oriental Consultants Global developed rules and regulations, plans, teaching materials, and curricula through discussions with the National Emergency Management Agency and with officials from the Ministry of Construction and Urban Development, Ministry of Education, Culture, Science, and Sports, the national inspectorate, and Ulaanbaatar. The company also conducted workshops and provided training to help improve the disaster preparedness of personnel from other ministries, agencies, and research institutes.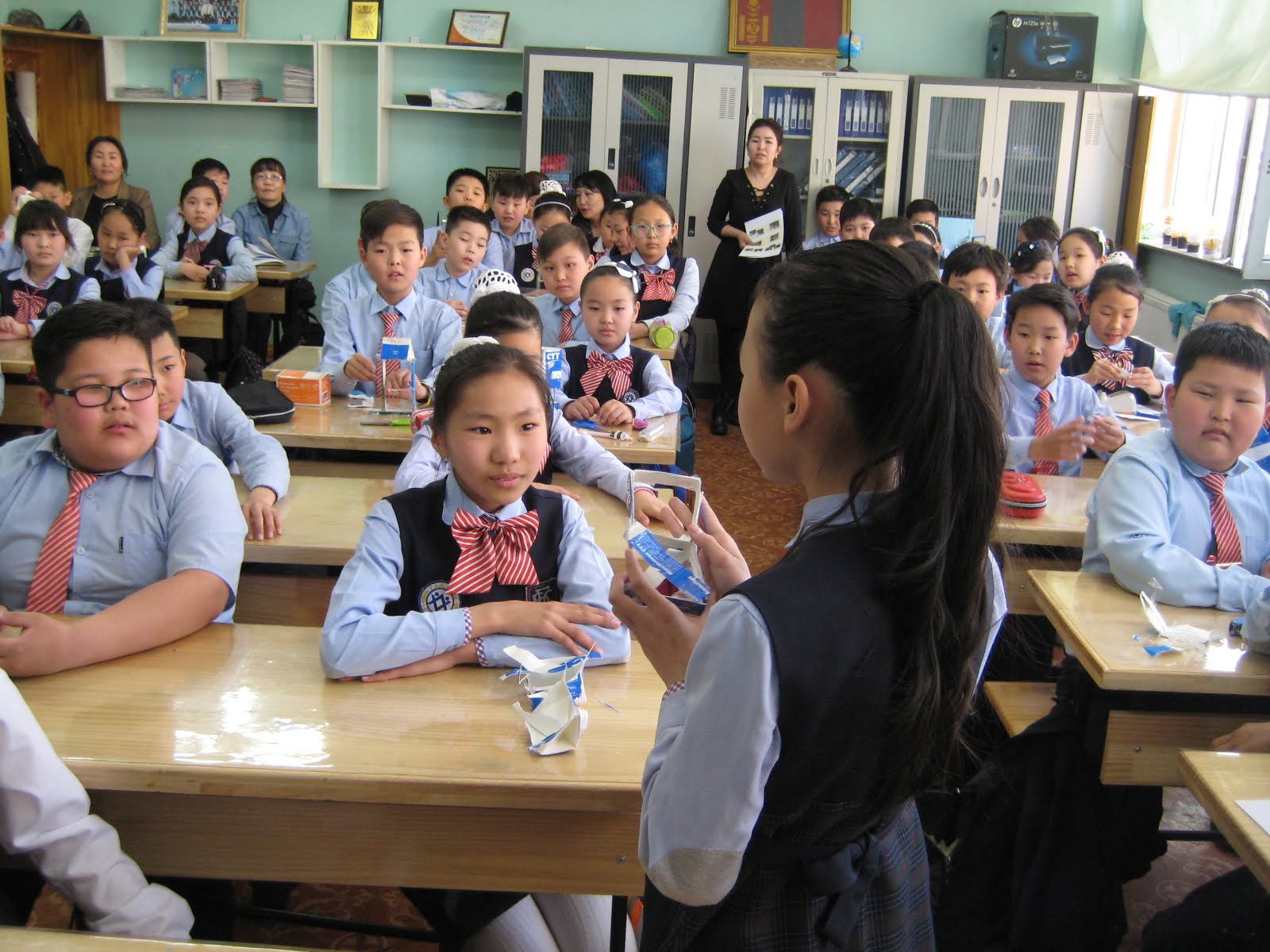 Snapshot of disaster preparedness education and training at elementary schools.
Participants crafting models to learn about seismically reinforcing buildings.

Integrated Slope Measurement and Management System with Inclinometers and Soil Moisture Meters
Over the past few years, frequent landslides from heavy rains have raised interest in disaster prevention techniques among road, railway, and other slope maintenance managers. Unfortunately, few measurement systems meet user needs and they are seldom adopted. We have therefore leveraged measurement and monitoring technology that we created with universities to develop a system that can predict deformation and increased water pressure. In concrete terms, this is an innovative slope measurement and management system that integrates an inclinometer and a tomography soil moisture meter for two measurement techniques to determine slope displacement and soil moisture.
In October 2019, we signed a memorandum of understanding with Izukyu Corporation, a railway company, to install measuring instruments that we are developing along route slopes and begin collecting data. We aim to use findings to upgrade our monitoring technology prediction system and deploy it with other railroad companies. We will share technology from Asano Taiseikiso Engineering Co., Ltd., with the entire Group to broaden our capabilities in disaster prevention management.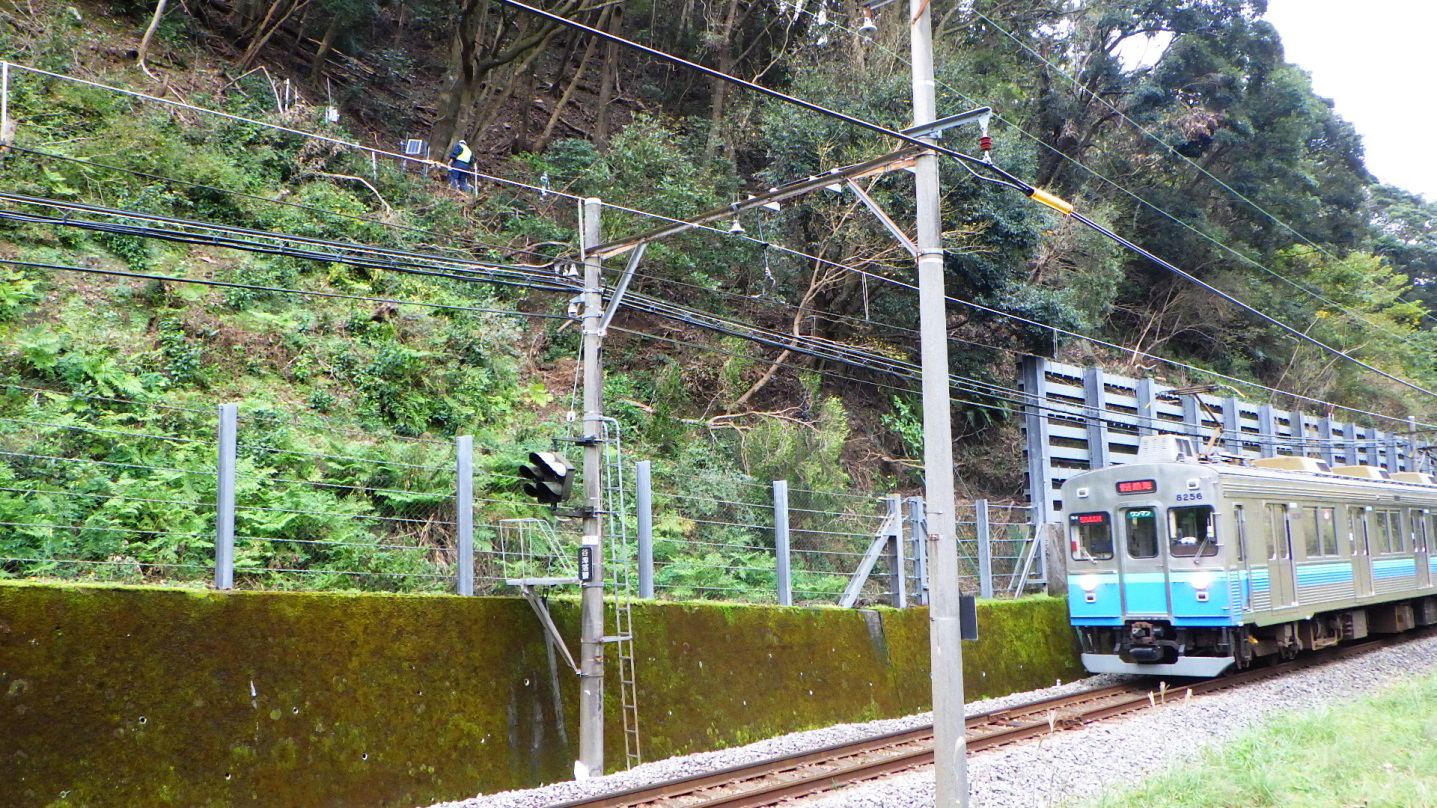 Measuring instrument installed on upper slope of Izukyu railway line

Simulating Runoff Analysis of Main Line to Handle Heavy Rainfalls
The Second Myoshoji River main line has an inner diameter of 2,600 mm. It was constructed to reduce flood damage in Tokyo's Nerima, Nakano and Shinjuku wards, and discharges sewage to the Ochiai Water Reclamation Center and rainwater to the Kanda River. The entire 4,230-meter main line, except the discharge section, was completed. Provisional operations began in 2007 of stormwater storage pipes to control floods. Full operations are slated to start once the discharge section to the Kanda River is finished. As part of preparations, we surveyed and restored the main facilities of the Bureau of Sewerage, covering approximately 800 hectares of the main line basin, identifying current issues from runoff analysis simulation findings. We were commissioned to develop plans to prevent flooding damage without needing to build new facilities.
Regional features make it hard to build new pipelines. Nonetheless, we were able to propose a plan that minimizes flood damage by removing unnecessary valves, improving diversion weirs and other existing facilities, and minimizing new facilities installations. This approach should help curb local flooding in the years ahead.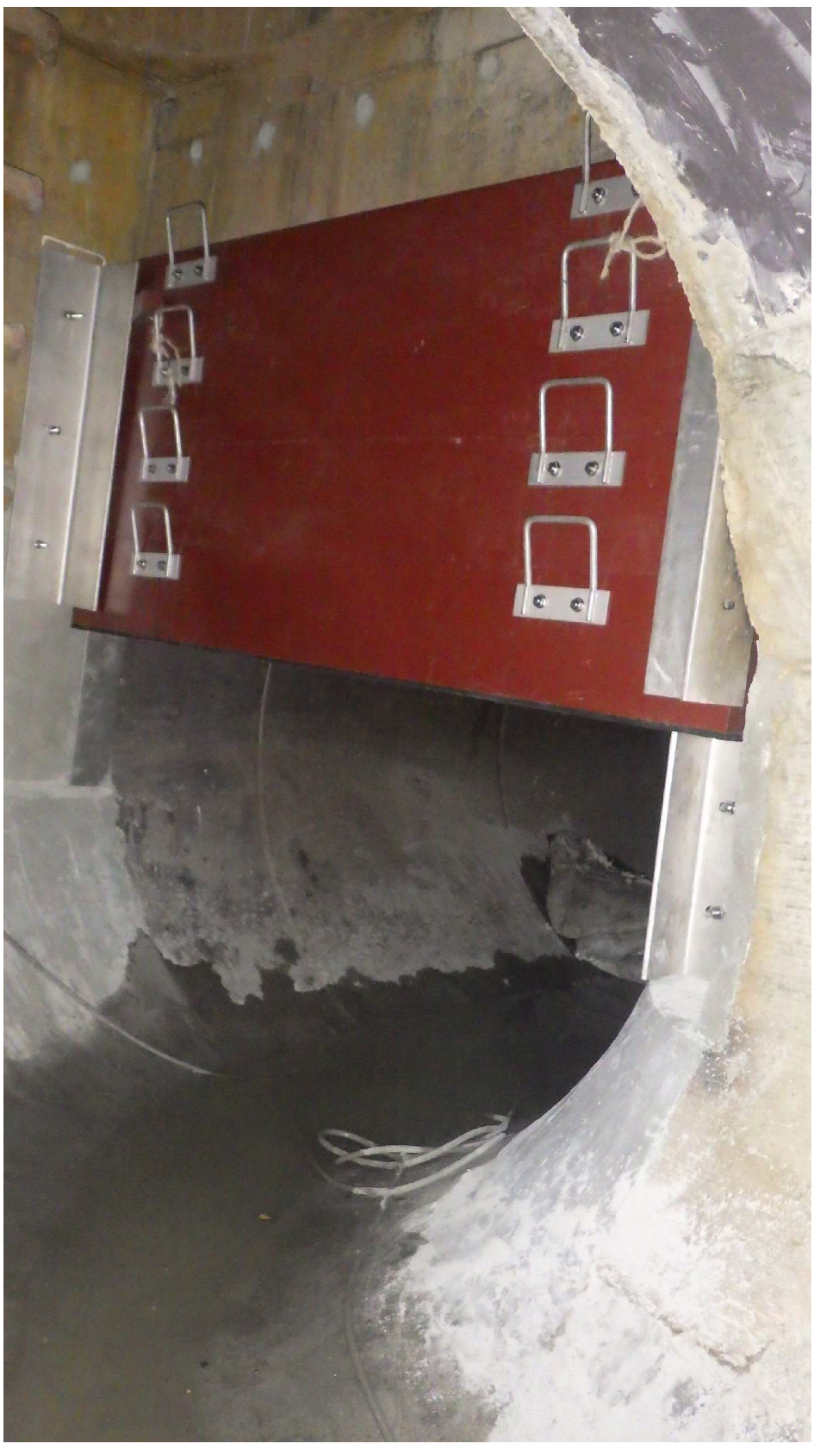 A removable hanging partition was installed to control discharges into the river.

Providing Survey and Design Services for Restoration from Debris Flow Disaster
July 2018 saw heavy rainfall warnings issued for northern Kyushu and 11 prefectures in the Chugoku, Shikoku and Kansai areas of Japan in view of Typhoon No. 7 and rainy season front stagnation. The resulting torrential rain led to river bank overflows and landslides in many areas, particularly in western Japan. Vital infrastructure was damaged, and more than 260 people died or went missing, making this the worst flooding event in three decades. The city of Kure in Hiroshima Prefecture responded by commissioning A-TEC Co., Ltd., to provide surveying and design services for restoring the Mizushiri River.
The scale of landslides that caused the disaster was so large that conventional topographical surveying would be dangerous and consume considerable manpower and time, making disaster assessments very difficult. A-TEC thus suggested using unmanned aerial vehicle (UAV) lasers to determine the extent of mudslides and sediment accumulation, shortening lead time and improving precision. After taking measurements, A-TEC used 3D data help prepare disaster recovery survey drawings.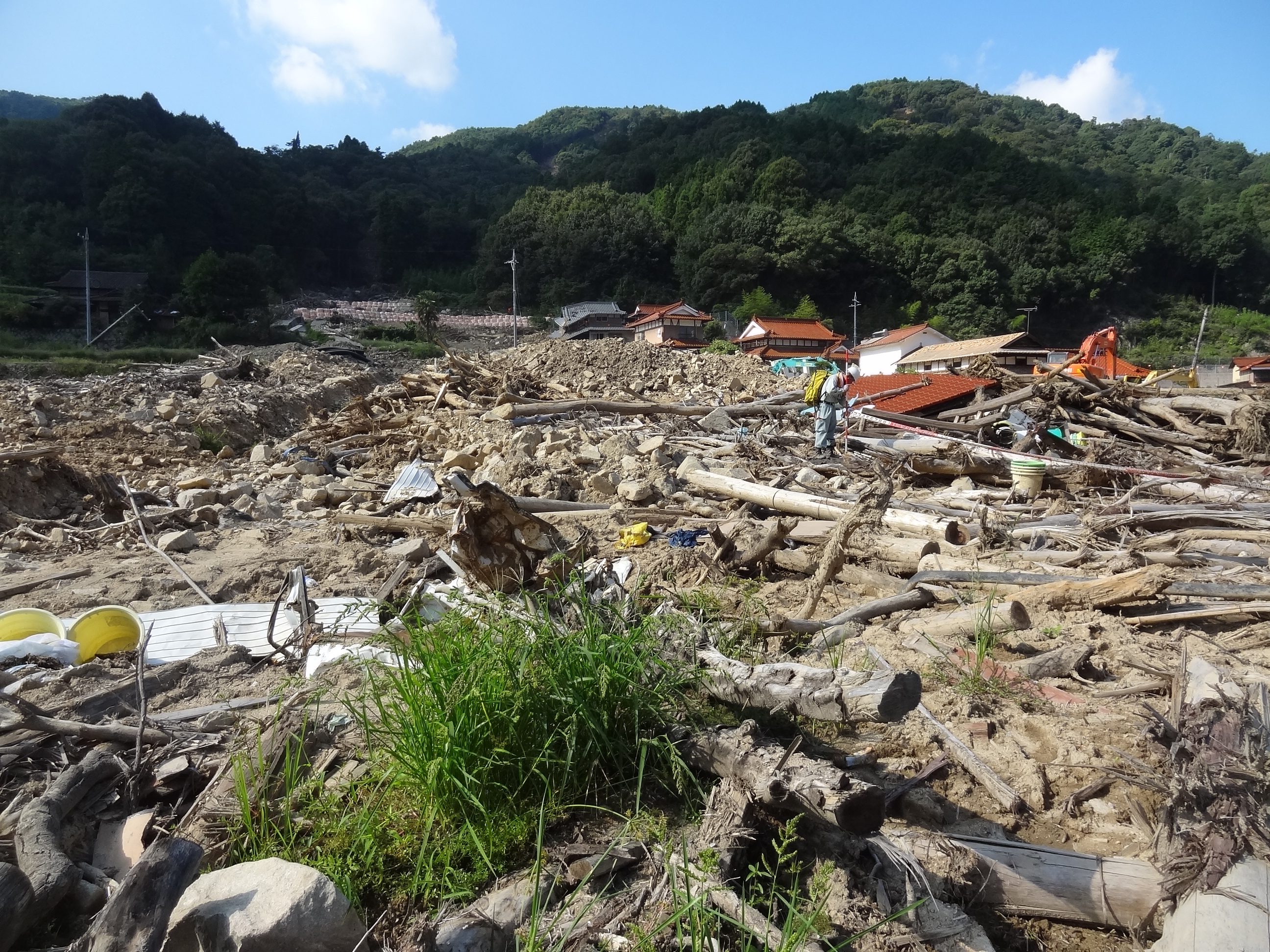 Debris flow damage in Yasuura, Kure

Leveraging UAV Mobility and Artificial Intelligence-Based Decision-Making to Improve Research and Analysis
The Ministry of Land, Infrastructure, Transport and Tourism and local governments must conduct swift field surveys and take measurements to accurately estimate sediment movements immediately after disasters. Working in unstable areas is risky, however, and the greater workloads of large areas detract from quality and productivity.
We addressed those issues by developing a technique to automatically measure the diameters of rubble from data captured by UAVs. We made the technique available as a cloud system so anyone can easily use it. This approach is far faster than manual surveys and measurements.
The operator simply uploads UAV images to the cloud. The system automatically generates orthoimages, so called because they are geometrically corrected so scales are uniform and pictures look like aerial photographs. Artificial intelligence automatically identifies rocks and gravel to create debris diameter distribution graphs and produce various reports. All of the work can be completed online, making it easy to share information with the relevant parties. It is therefore possible to swiftly assess disasters.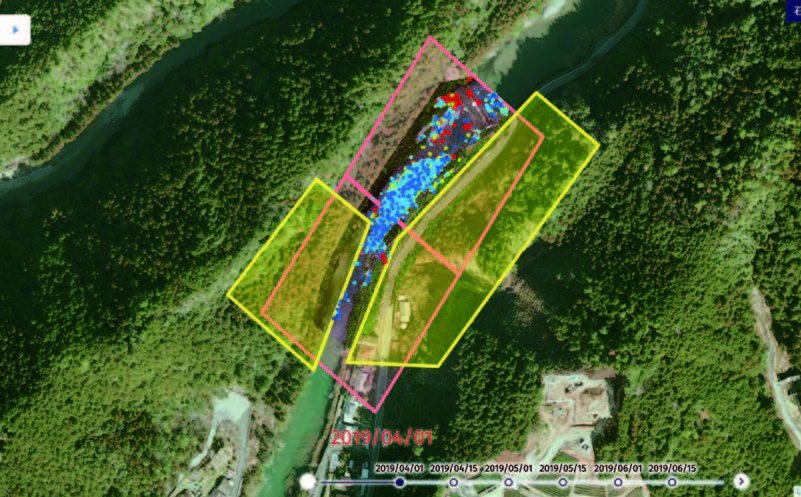 Artificial intelligence automatically identifies rocks in photos and automatically measures their sizes, locations, and numbers.