Topics of No.11 (September, 2016)

Contributing to the Community as Designated Park Manager by Collaborating with Local Farmers and Holding Events
The basic focus of Hibikinada Green Park is to enable people to engage with water, greenery, and animals. This is one of the biggest park in the city of Kitakyushu, and incorporates a rose garden, tropical ecology garden, pony square, outdoor stage, cycling facility, and numerous other attractions. Since April 2014, Oriental Consultants Co., Ltd., has represented the Green Park Activation Consortium operating and managing the park under a five-year contract. The operating objective is to revitalize the site, which has experienced declining visitor numbers and has struggled to attract people.
We therefore set about upgrading indoor playground equipment to ensure year-round enjoyment. We also planned and implemented a range of events, including festivals, picnics, concerts, and Color Run, an athletics event in which participants wearing different colored clothing compete. As a result of these efforts, the number of annual visitors exceeded 450,000 for the first time in 15 years, leading to a special news program about the facility's initiatives. Also, we collaborated with local farmers to stimulate the local economy, developing a croquette incorporating iced tomatoes from Wakamatsu. This offering has proven very popular at the park.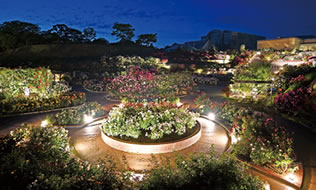 Every year, numerous people visit the rose garden to enjoy the bright and colorful environs.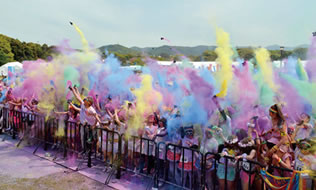 Young people are particularly enthusiastic participants in the Color Run.

Revitalizing the Community by Leveraging Smartphone App and Educating School Students to Foster Tourism.
Ukiha City has many tourist resources, including many historical ruins and structures. However, the city faced many challenges, including a shortage of guides, population aging, and attracting more tourists. Research and Solution Co., Ltd., therefore developed an application to promote tourism by combining short-range wireless beacon technology with a smartphone devices. We positioned beacons in around 70 locations, including sightseeing spots and stores, and automatically distributed tourist spot information and store coupons to increase tourist visits and consumption. We additionally rolled out a tourism education program for local school children as one of its CSR Main Priority Projects. Participating children walked around the city, learning about the local history and culture and producing tourist maps. On presentation day, we picked the best creations of these children, and local residents enjoyed looking at the works. This was the first time in Japan to include handmade tourist maps by school children in an application. We are building on this approach to create a highly sustainable project that involves communities.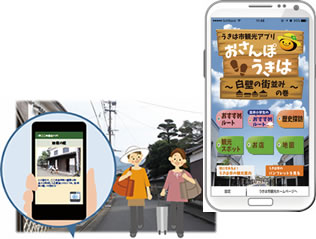 People can download the application to obtain tourist information and coupons.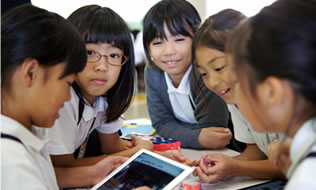 Our tourist education program involved 40 year-five students and produced tourist maps from their perspectives.

[Africa]
Oriental Consultants Global Took Part in TICAD VI
Eiji Yonezawa, president of Oriental Consultants Global Co., Ltd., was part of an economic mission that accompanies Japanese Prime Minister Shinzo Abe to the Sixth Tokyo International Conference on African Development (TICAD VI), which was held in Nairobi, Kenya, on August 27 and 28, 2016. More than 11,000 attended the event, including representatives from 53 African nations, development partner countries, Asian nations, international and regional institutions, and nongovernment and other civil society organizations. At a public-private infrastructure seminar that Japan's Ministry of Land, Infrastructure, Transport and Tourism sponsored as part of the conference, Mr. Yonezawa delivered a lecture about the company's projects and exchanged information with participants from various countries.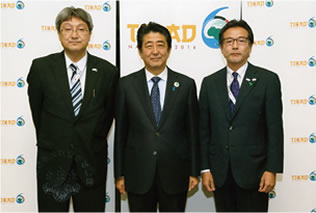 Center: Shinzo Abe, Prime Minister of Japan
Left: Eiji Yonezawa, president of Oriental Consultants Global Co., Ltd.
Right: Mikio Watanabe, Manager of Mozambique Branch of Oriental Consultants Global Co., Ltd.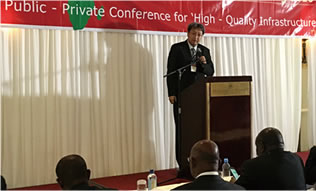 Mr. Yonezawa spoke at a public-private infrastructure seminar that Japan's Ministry of Land, Infrastructure, Transport and Tourism sponsored.

[Myanmar]
Providing Infrastructure for Rural Development and Poverty Reduction
Myanmar has democratized since a new government took office in March 2011 after a civil war that engulfed the multiethnic nation. At the same time, the country still has some way to go in terms of socioeconomic progress, and must urgently pursue rural development and poverty reduction to ensure peace and stability. It is against this backdrop that ACKG is providing support for power, roads, bridges, and other infrastructure that is essential for regional progress, as well as for water supplies that contribute to human health and safety. We seek to enhance the operational administration skills of local people in assisting with engineering, procurement, construction management, and other tasks while endeavoring to swiftly materialize business results and maintain stable business management. Our project is subject to the Japan's government's first official development assistance lending to Myanmar since 1987.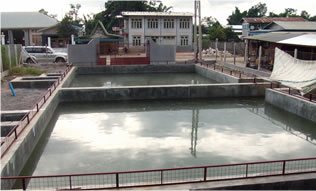 We completed a water treatment facility that will ensure safe supplies of this precious resource to the community.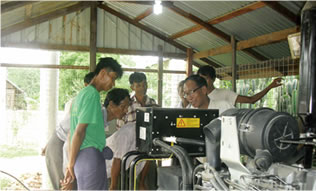 We are providing technical instruction to local people for diesel generators installed for electric power generation operations.

[Nepal]
We are Contributing to Swift Reconstruction for Homes and Schools Damaged in a Massive Earthquake
On April 25, 2015, a magnitude 7.8 earthquake struck around 80 kilometers northwest of Kathmandu, Nepal's capital. Around 9,000 people lost their lives and 500,000 homes were destroyed. At least 50,000 classrooms collapsed or were damaged, depriving more than 2 million pupils of study facilities. Our project encompasses formulating quake resistance and quality standards and providing technical training to stonemasons and other craftspeople engaging in housing reconstruction. We are endeavoring in various ways to drive school reconstruction. We are creating standard designs for rebuilding facilities. At the same time, we are producing school rebuilding plans and operations manuals because the quake damaged so many of these institutions.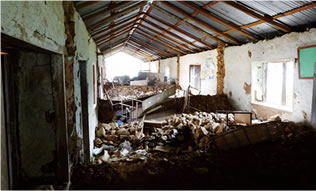 People have placed high hopes on the swift reconstruction of schools in Laritpur district, where quake damage was particularly heavy.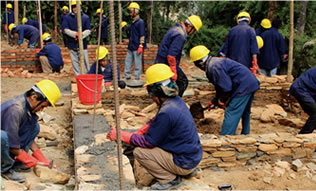 We are providing technical training for stonemasons to foster the construction of earthquake-resistant homes.

[Indonesia]
Building on University Facilities Maintenance Efforts to Set Up Nation's First Smart University Infrastructure Systems
Ensuring stable energy supplies is a national issue in the rapidly expanding Indonesian economy. Since 2008, we have handled campus planning and facility design, assisted with bidding management, and supervised construction in an upgrade project for the Faculty of Engineering at the Hasanuddin University. We undertook this project as a main priority project, recommended ways to make university buildings smarter. We made it easy to check building energy consumption with smart meter and an EMS* and installed a basic solar energy system for micropower generation. We also launched a donation-funded course as part of CSR activities to help cultivate international engineers and support sustainable operations for smart facilities operations.
*Energy Management System: A system based on energy standards, setting set up policies and objectives for energy consumption and managing plan formulation and orders.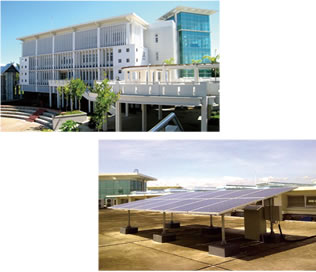 Hasanuddin University's Center of Technology building and rooftop solar power generation facility.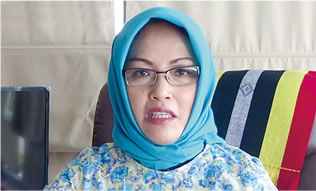 We received a letter of appreciation from Hasanuddin University Rector Prof. Dr. Dwia Aries Tina Pulubuhu, MA.