Topics of No.12 (September, 2017)

[India]
Planning a high-speed rail system to ensure punctuality and safety Starting work on the first of seven sections!
We are undertaking field surveys, planning, and engineering for a 505-kilometer high-speed railway project to connect premier Indian business hub Mumbai with the industrial city of Ahmedabad.
Around 90% of the line will be along elevated track. About 21 kilometers of track will be through undersea tunnels. Four Group companies have collaborated on this initiative to draw on their technological capabilities. The project is a joint venture between Oriental Consultants Global and two other Japanese companies. The team comprises numerous specialists in such fields as railroad and civil engineering and in machinery, electricity, and construction. Participants are all contributing to exports of bullet train infrastructure, drawing on the knowledge and technological expertise that they have cultivated professionally in Japan.
Seven sections are planned for the high-speed railway. Construction of the first section has attracted considerable attention in marking the beginning of work.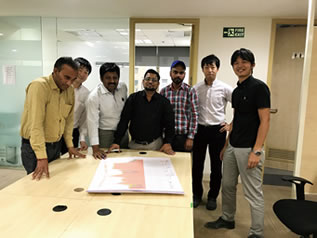 Teamwork with engineers from local companies and other entities is essential.

[13 countries in Africa and Asia]
Supporting JICA's first agricultural and rural development project to improve nutrition
According to the United Nations Children's Fund, 146 million children under the age of five around the world are acutely or chronically malnourished. The problem is especially grave in developing nations, with some of these children living in families experiencing starvation. At the Sixth Tokyo International Conference on African Development in August 2016, the Japanese government declared the launch of the Initiative for Food and Nutrition Security in Africa (IFNA) to support countries experiencing issues in providing nutrition to their people. We responded to this move by conducting basic information gathering and confirmation studies on food and nutrition covering 10 IFNA countries and three Asian experiencing malnourishment to assess nutrition levels and initiatives. We provided suggestions from such diverse perspectives as agriculture, food safety and security, health, education, and water hygiene.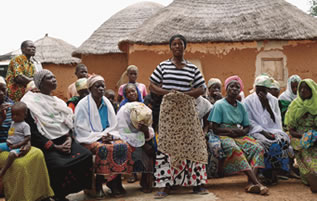 Women participating in a nutrition improvement project conducted by another organization grow vegetables in their gardens and save money raised from selling shea nuts and other produce within the Group, using the proceeds to improve their nutrition and living standards.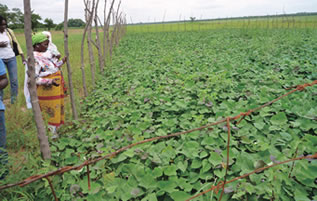 Here is an orange-fleshed sweet potato field in a village in Ghana, where initiatives to educate about nutrition include cultivating and cooking such beneficial crops as orange-fleshed sweet potatoes, which are rich in vitamin A.

[Indonesia]
Supplementing cargo capacity shortfalls in harbors in metropolitan area by developing a new port offering access that bypasses congested roads
In Indonesia, whose economy is rapidly growing, port and harbor capacity shortfalls are expected to be acute by 2030 despite efforts to expand existing facilities. This is because of markedly increased cargo handling in metropolitan Jakarta. The national government is considering a new port in Patimban, where Japanese soil remediation and revetment technologies are slated for deployment. Indonesian President Joko Widodo has positioned improving port and harbor infrastructures as central to his doctrine of making Indonesia a major maritime nation. The new Patimban port would be a key domestic trading hub. We will contribute further to improvements in the Indonesia's investment environment and economic growth by reinforcing logistics in metropolitan areas.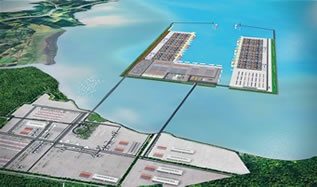 Envisaged view of Patimban port from the land.

[The Philippines]
Implementing detailed engineering survey of North-South Railway Project to reinforce traffic networks and mitigate congestion
Metropolitan Manila is the center of the economy of the Philippines as home to 13 million people. Traffic congestion has worsened amid rapid growth in recent years and the heavy concentration of economic activity. People have had to endure long commutes by bus, car, and other vehicles owing to an urban sprawl and delays in deploying transportation infrastructure. One anticipated solution for this commuting issue in metropolitan Manila is the 144-kilometers North-South Railway Project. In August 2017, we completed detailed engineering for 37 kilometers of line from Malolos in the north to Tutuban. We will mitigate traffic congestions and air pollution by expanding commuting networks.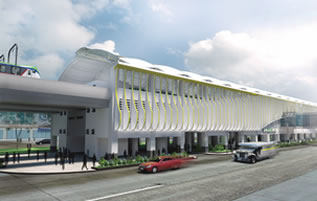 The futuristic and impressive design envisaged for Marilao Station.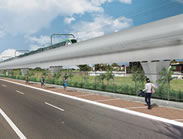 The entire line would be elevated.

[Vietnam]
Constructing the first highway in Central Vietnam
Anticipation mounting for role as vital artery connecting north and south
We are constructing a 139-kilometer highway to connect Da Nang, the biggest city in Central Vietnam, with Quang Nam and Quang Ngai. The area is packed with key logistics and traffic infrastructure and tourist attractions. It boasts an international harbor, airport, industrial complex and World Heritage sites. Local people look forward to everything becoming more accessible through completion of the highway. This road will also serve as a valuable alternative in the event of a flood or other disaster to the National Highway 1 on the ocean side, which runs parallel to the new highway. In August 2017, a 65-kilometer section between Da Nang and Tam Ky opened, and a commemoration ceremony was held.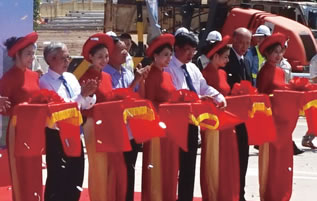 Ribbon cutting ceremony in August 2017.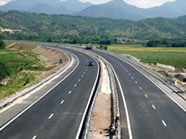 A 65-kilometer section opened in the north to deliver convenient driving.

[Mongolia]
Building a new airport to overcome a harsh climate
Airports are vital gateways to the world for landlocked countries. But the current airport of Mongolian capital Ulaanbaatar has numerous safety issues, and in-service rates are very low. We are building a new international airport to accommodate rapid growth in air traffic demand. The facility's inland location has posed many materials procurement challenges. Construction eventually started after several design changes and vendor tender stages. The climate range is extreme, from -40° in winter and 40°C in summer, so only 70 days a year are conducive to outside work. For example, temperature for paving concrete paving must be above 5°C. To operate effectively in limited timeframes, we employed a revolutionary bulk automatic concrete stamping construction method to handle this task.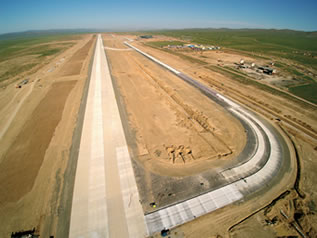 Concrete paving for runway that will serve in tough climate conditions.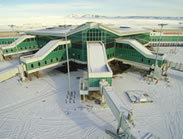 Panoramic view of passenger terminal building.