Topics of No.15 (September, 2019)

[Six Central American countries]
Supporting Development in Central America by Proposing Logistics Improvements
Guatemala, Honduras, El Salvador, Nicaragua, Costa Rica, and Panama are pursuing economic integration while driving economic development and endeavoring to enhance their international competitiveness under the auspices of the Secretariat for Central American Economic Integration (SIECA).
The region's ground transportation costs are higher than in developed nations, a situation that some believe has hampered economic progress there. Factors cited have included inefficient customs procedures at borders and poor and aging logistics infrastructures. Although each member country has unilaterally formulated measures to address these issues, none of those efforts has efficiently resolved them.
We conducted a survey to systematically prepare basic information on current logistics, policies and strategies, and plans in each country and clarify issues. We prepared regional master plans covering all transportation sectors. We also quantitatively assessed transportation demand, economics, and financial soundness and presented our recommendations on bolstering the organizational structure for formulating and executing policies.
Our proposals were very highly well received, and we obtained more orders to produce logistics development master plans for the entire region. We will work with subsidiary OC Latin America, S.A., which we established in Panama in September 2019, to keep contributing to economic development and integration throughout central America.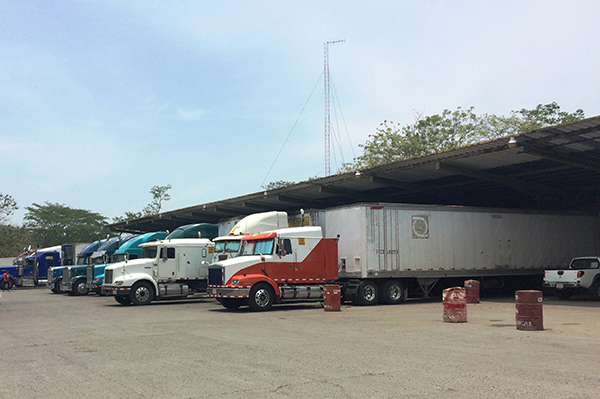 [Indonesia]
Indonesia's First Mass Rapid Transit Railway System Opens Under Partnership between that Nation and Japan
The population of metropolitan Jakarta is increasing every year, and has reached around 30 million. The numbers of registered cars and motorcycles have surged. The city experiences traffic gridlock around the clock. The authorities therefore concluded that it would be vital to not only extend existing lines but also construct a central subway to alleviate congestion. This led to the launch of a North-South Corridor Project between Japan and Indonesia for PT Mass Rapid Transit Jakarta. Phase one construction covered a 15.7-kilometer twin-track rail line from Lebak Bulus to Bunderan HI. This comprises a 9.8-kilometer elevated track and a 5.9-kilometer underground section. There are concourses on the second levels of elevated stations and platforms on the third. For subway stations there are concourses on B1 levels and isle platforms on B2. A yen-denominated overseas development loan was approved in 2009. Operations began in March 2019. Trains on the line carry more than 90,000 passengers daily. The service slashes what would normally be a more than two-hour car commute when traffic is heavy to just 28 minutes.
Japanese companies obtained orders for all packages, from planning and design to civil engineering and track construction, railway systems, and rolling stock. Indonesia's president and other stakeholders kept close tabs on what was the nation's first metropolitan mass rapid transit rail system in a partnership between that nation and Japan. A planned second phase would extend the line northward.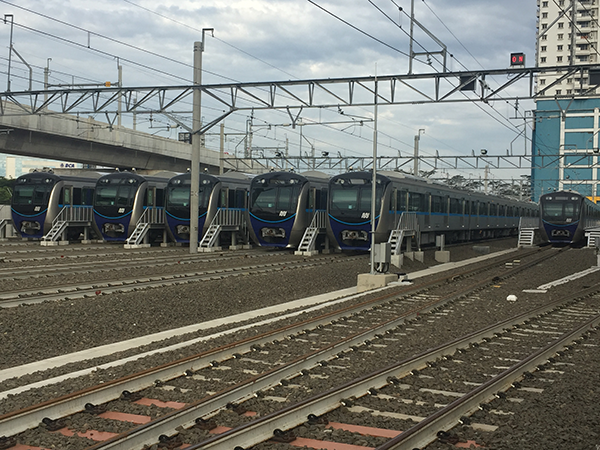 Streamlining Traffic at Regional Tourist Events
The Wakayama Prefectural government chose Nanki-Shirahama Airport, Inc., as an enterprise to revitalize the local private sector. That entity began operating the airport on April 1, 2019. Oriental Consultants formed a business alliance with that company, drawing on its asset management expertise, information and communication technology tools, and other capabilities to ensure more efficient and sophisticated management of engineering facilities at the airport. It also promoted tourism and streamlined traffic. On July 1, Oriental Consultants signed a memorandum on deploying measures to combat traffic congestion countermeasures during summer 2019. It collaborated with the town of Shirahama and Nanki-Shirahama Airport to endeavor to eliminate traffic congestion in Shirahama and surrounding area when many people visit to enjoy swimming and fireworks displays. During fireworks festivals in Shirahama on July 30 and August 10, for example, Oriental Consultants encouraged people to travel to and from the area by the Kisei Expressway and Flower Line. It directed them to a temporary car park on a former runway.
The focus was on three elements: (1) getting sightseeing traffic to Shirahama, (2) handling traffic within the area, and (3) managing traffic for returning home after the fireworks. To get traffic in, Oriental Consultants installed banners and signboards and presented travel times and live video feeds online. To handle traffic within the area, it informed drivers how to use their car navigation systems to get to the temporary car park. It also installed electronic bulletin boards and distributed tissue packs showing instructions to help prevent traffic jams when people decided to return home.
As a result of these efforts, congestion on Prefectural Road 33 was more than 70% less than envisaged when people entered Shirahama, with the congestion time plunging 90%, and about 50% less than when heading home, with congestion time dropping around 30%. There were no major traffic jams throughout this period, which was satisfying.
In a post-event survey, 30% to 40% of respondents noted that they obtained information from the website and signboards, although it was also clear that there were some issues. On September 26, Oriental Consultants, Shirahama, and Nanki-Shirahama Airport submitted a report to the Shirahama Tourism Association and Shirahama Police Station that included recommendations for future measures.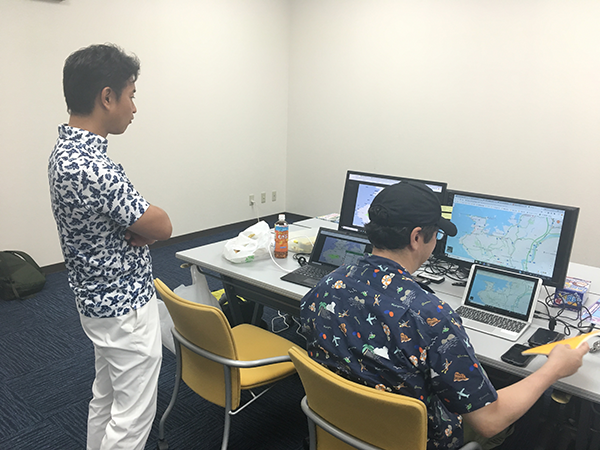 Providing time requirements and live camera information on website
Assisting with Social Experiment for Creating Malls on Main Streets
Outside the east exit of Shinjuku Station is one of Japan's preeminent shopping centers, housing countless restaurants, department stores, and electronics retailers. One cost of such popularity, however, was that vehicles often stopped along the roads to drop off goods, and there was also considerable illegal parking. This situation hampered the movements of pedestrians and also reduced areas in which people could take a break, making the area less attractive. Shinjuku Ward thus commissioned Oriental Consultants to collaborate with the Shinjuku Station East Exit Area Pedestrian Traffic Enhancement Council to assist with a two-year social experiment. This comprised a project to centralize goods unloading and using road space to create an attractively bustling environment.
The theme of this experiment was Shinjuku Mall & Passage. It entailed reducing parking on the street by centralizing where vehicles could offload goods while optimizing parking locations and times. It was also proposed to use part of the road to create a temporary sidewalk called SHINJUKU STREET SEATS, holding beverage tasting events and displaying panels there to create more attractive environs for pedestrians.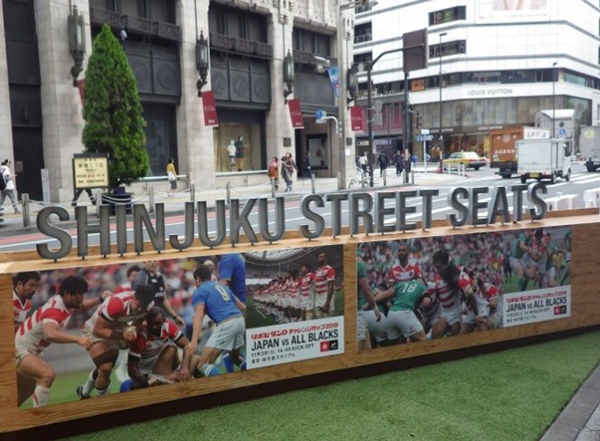 SHINJUKU STREET SEATS, with rugby-related information panels on wall

Providing Traffic and Speed Information on Expressways
A-TEC Co. Ltd. developed MOVTRA, a portable device that uses an infrared sensor that can measure traffic volumes and speeds across two-lane roads. It is easy to install this device, which can operate non-stop for seven days. Many road-related businesses use it, as it is possible to swiftly tabulate acquired data. Renovation work has been intensive in Japan in recent years owing to the aging of the nation's expressway infrastructure, creating concerns about traffic congestion and services worsening as construction restricts traffic. It has thus become very important to monitor traffic flows at such times to better serve road users. Road managers therefore commissioned us to install and use MOVTRA units to provide timely traffic and speed information across several months.
We will enhance and integrate services by leveraging information and communication technology to reinforce communications and build links with speed limit lights, LED signboards, and other systems. We look to offer a full service encompassing traffic regulation planning, congestion measures, monitoring and providing information on traffic, and construction restrictions.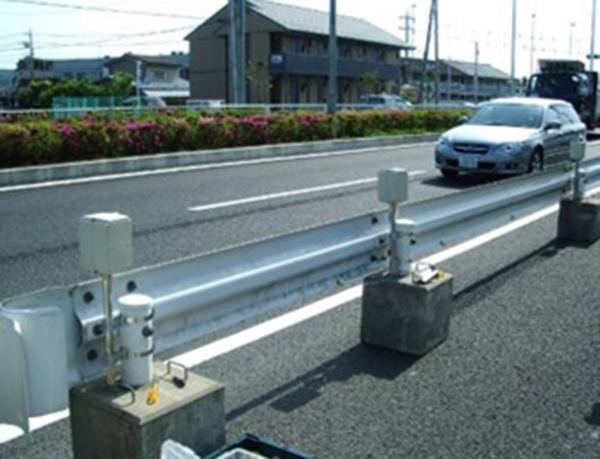 MOVTRA installed on road guardrail

Analyzing Drive Recorder Videos
Research & Solution Co., Ltd., offers Sherlock, a drive recorder-based service that helps companies and local government entities reduce accidents. For this service, analysts check video recordings to identify dangerous driving and provide these customers with monthly reports highlighting issues. Customers have found the service very valuable.
One downside to this setup was that the recorder had no communication capability, so data had to be obtained later from SD cards. An PC app had to be installed to use the data. Research & Solution therefore joined hands with external partners to improve this recording service. The new drive recorder resulting from this effort features artificial intelligence-based image recognition. The analysis system incorporates a risk detection algorithm employing artificial intelligence. The system can thus detect vehicles, pedestrians, lanes, and the directions of driver faces and when eyes open and close. The system can transmit real-time alerts to drivers. Research & Solution will endeavor to expand its customer base, particularly among nursing care providers that employ a lot of older drivers.

Alleviating Traffic Congestion in Congo
Kinshasa, the capital of the Democratic Republic of the Congo, has a population of more than 12 million. Unfortunately, many of the city's roads are unpaved. Its railway only provides one round trip daily, which is insufficient for urban transit. Traffic congestion thus became a serious issue, necessitating drastic measures. After seeking the Japanese government's cooperation, JICA concluded a contract with a joint venture of four companies to tackle this problem. They include Oriental Consultants Global Co., Ltd., which oversees this venture.
The process of formulating the nation's first master plan for urban transportation considered the consistency of factors and priorities. The venture created a traffic demand prediction model drawing on information from base maps and interviews. The venture also formulated a vision and scenarios for 2040 and we produced a specific implementation plan, verifying its effectiveness. Agreement on the master plan came after discussions involving the national and city governments and, the provincial legislature, and other related bodies. Various projects based on the plan are slated for the years ahead.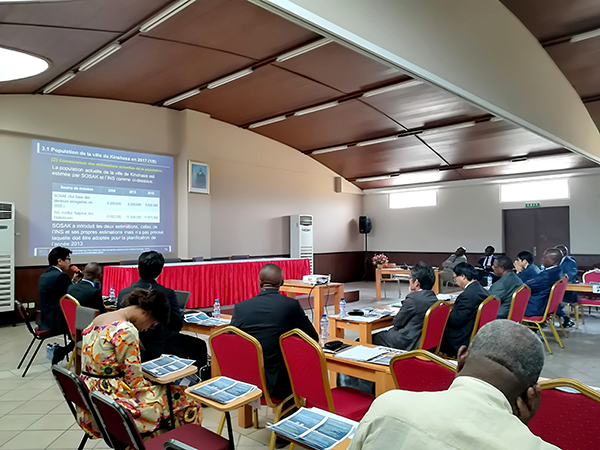 Joint liaison meeting with senior government officials
Meeting between central and local government and Japanese officials (photos courtesy of Oriental Consultants Global and JICA)
Roadside Rest Area Maintenance under Private Finance Initiative Agreement
The Yamato Oriental Consultants Group, comprising Maebashi-based Yamato Inc., Oriental Gunma, and Oriental Consultants, was commissioned to maintain and run a new roadside rest area in Maebashi. This was the first instance in Japan of choosing the same operator from a basic planning stage to handle design, construction, and operations under a private finance initiative setup for a publicly built and privately operated facility.
The basic plan was produced in October 2018 after discussions with the Maebashi municipal government, which approved a private finance initiative agreement in December that year.
The all-weather roadside rest area features a shop selling agricultural and livestock products direct to the public, a spa, a lawn, camping and barbeque facilities, and plantation and greenhouse area. Specialty offerings at this bustling facility include pork, vegetables, desserts, and souvenirs, and other produced in Maebashi and Akagi. Universal design ensures that people of all ages can thoroughly enjoy the food and the facilities. The group will endeavor to make this roadside rest area the most popular in Japan.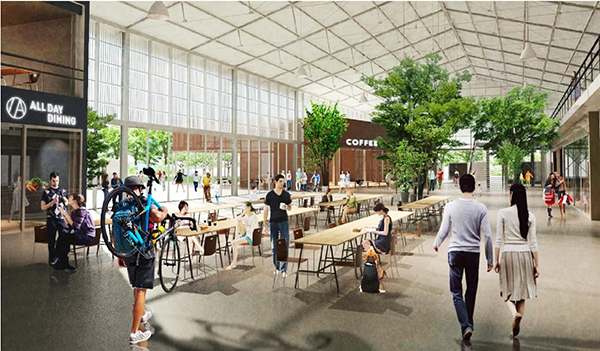 This lounge also functions as an emergency shelter
Rebuilding Local Businesses
The town of Kaisei, western Kanagawa Prefecture, faced the challenge of revitalizing itself by preserving its attractive rural landscape and fostering agriculture. One step in the right direction was that Oriental Consultants acquired and reopened the 150-year-old Seto Shuzo sake brewery. It then set about rejuvenating the business by brewing sake based on a traditional recipe. The brewery has gained a steady following since reopening for the great taste and stylish labeling of its sake. It won a silver medal in the Junmai Ginjo category of the prestigious International Wine Challenge 2019
We are also the designated manager of Setoyashiki, which suffered from poor demand. There, we opened the caféhacco restaurant, attracting new customers by successfully publicizing the long and healthy lives that local people enjoy from consuming the fermented foods and beverages that it offers. Also popular are lessons for making koji, an enzyme-rich fungus grown on grain, and sake lees, which are sake production leftovers used in pickling. There are also classes for cooking with sake lees. We are promoting local branding efforts to help revitalize the natural environs of the area, including to help its fireflies to flourish and attract more tourists.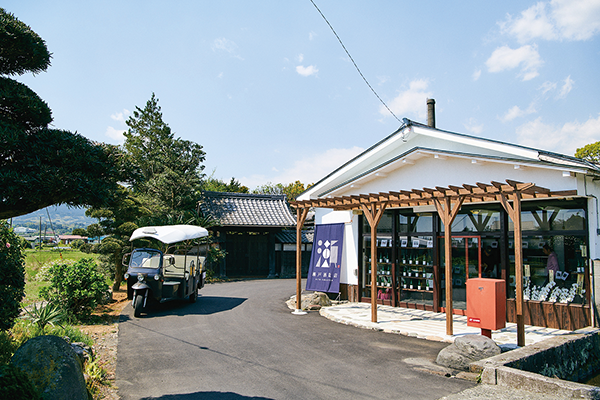 A rejuvenated and upgraded sake brewery.
Revitalizing Local Industry and Promoting Tourism
In May 2018, the town of Misato solicited tenders to manage a local nature reserve and building complex that opened in 1994, and help revitalize local industry and attract more tourists.
Oriental Consultants presented a proposal based on three concepts. These were to provide services that delight visitors, collaborate with the community to contribute to it, and better promote Misato's attractions. The firm won a mandate to manage the facility for the period of April 1, 2019 through March 31, 2024. By that year, Oriental Consultants aims to boost the number of facility visitors by 2.5-fold.
One specific initiative has been to plan an accommodation package in which people can plant rice and take cooking classes in which they use seasonal produce. We look to offer more such stayovers, notably so people can enjoy local beer and music festivals, and sake and stews. Local products include artisanal bread. We have started developing such products as Steamed Misato Pork Buns. We are publicizing Misato by overhauling its website and leveraging social media tools.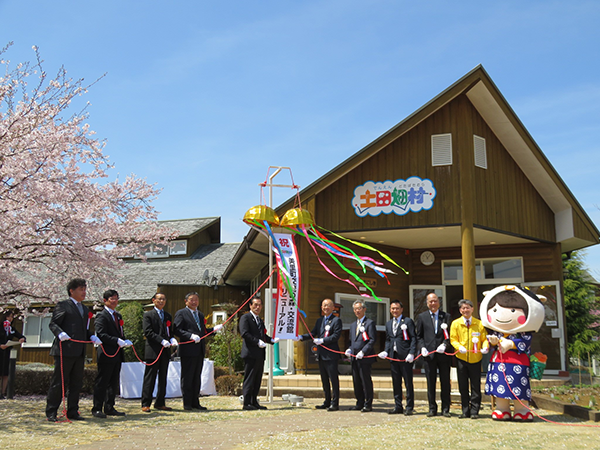 Reopening ceremony on April 21, 2019

Providing Smart Infrastructure at Overseas University
Oriental Consultants Global has been a management consultant for an upgrade project of Hasanuddin University's Faculty of Engineering since 2008. Official development assistance loans to Indonesia fund this project.
The firm has undertaken the work based on an eco-campus concept. It has handled everything from producing a campus master plan to engineering, assisting with tenders, supervising construction, and procuring equipment. In 2015, the firm deployed smart meters and micro solar power systems based on the Indonesian government's policy to stabilize national energy supplies.
In 2017, the firm signed a memorandum of understanding with the Faculty of Engineering to jointly explore the feasibility of building a decentralized renewable energy network system with micro hydropower and geothermal facilities and of constructing a reclaimed water system that employs underground rainwater tanks.
A decentralized renewable energy packaging experiment and expertise from results analysis will make it possible to conserve energy and use renewables more efficiently.
The firm plans to arrange international seminars and symposiums with the university to promote eco-friendly smart public facilities for universities, hospitals, and government offices.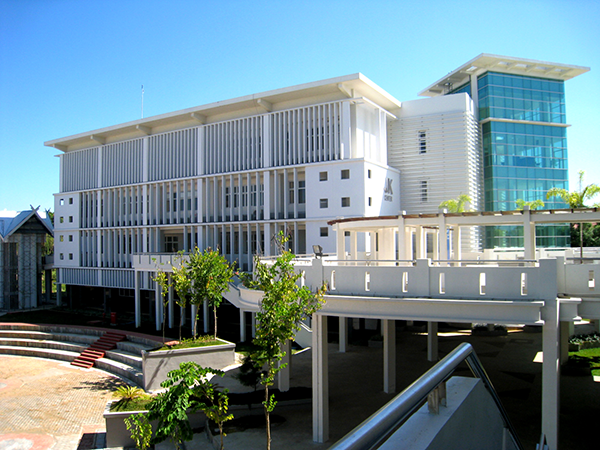 The beautifully bright campus of Hasanuddin University's Faculty of Engineering

Revitalizing Community through Concessions
In July 2018, Chuou Sekkei Engineering Co., Ltd., concluded an agreement in which the city of Hakusan gave it a gratis grant to operate the Furusato Recreation Center spa. The firm began running this facility as Senjo Onsen Seiryu. This incorporates accommodation facilities and a banquet hall for up to 100 people. It contributes to tourism by attracting families, offering bathing, meals, beauty treatment, a BBQ area, and fishing ponds. The firm is also a significant employer of local residents.
Established in October 2015, campsite management company Hakusan Senami Co., Ltd. holds a range of events, provides school education support, and sells local products. It recently started selling locally produced charcoal at a restored hut and, and has undertaken pest control work. Its effort to build a mountain trail and cultivate dogtooth violets by using grants have featured in a book on mountain climbing in Ishikawa Prefecture and in an NHK television program. The trail is a certified part of the course for the famed Hakusan Geotrail. These have done much to revitalize the area.
In Hakusan, we look to harness synergies from these two concessions to further revitalize the region and expand business management.
Strengthening operations as natural mountain spa inn

Building Information Distribution App Platform to Promote Tourism
Research & Solution developed Purari, a proprietary platform for easily developing smartphone apps to promote events and attract tourists. The platform can be used to direct people to festivals and other events, shopping streets, theme and amusement parks, and other local attractions. As well as offering regular content, Purari pushes information across short distances through its Beacon feature and employs GPS so people can locate themselves precisely.
Purari can help attract more tourists by simultaneously disseminating information to users, informing expressway parking area and roadside rest area users about nearby tourist spots, and offering stamps and issuing coupons.
Purari offers excellent analysis, including of browsing and visit numbers. This platform is multilingual, so information can be sent to foreign tourists. Because apps are affordable and fast to develop, the number of users is increasing, particularly among local government bodies.
Purari has a solid track record as an information distribution tool for sightseeing spots, roadside rest areas, aquariums, and other facilities in Edogawa Ward in Tokyo, Ukiha in Fukuoka Prefecture, and in Akita and Okinawa prefectures.