Topics of No.7 (September, 2012)

Developing tsunami simulation with academic institution
Oriental Consultants joined hands with Professor Tomoyuki Takahashi of the Faculty of Safety Science of Kansai University to develop a simulation that can predict tsunami. This system can simulate the origination, coastal arrival, and land incursions of tsunami, predicting the heights, velocities, and depth of inundation on land of tsunamis with a high degree of probability.
Data from these simulations could be used to minimize the impacts of tsunami, particularly in the coastal areas of western Japan, in planning road routes and undertaking measures to safeguard existing roads and bridges from tsunami. Oriental Consultants will leverage simulations to generate proposals and contribute to disaster prevention initiatives.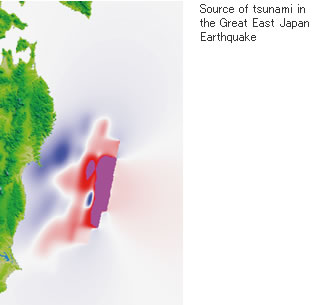 Schematic designs for deploying tsunami shelters
Oriental Consultants created schematic designs for tsunami shelters as part of a mandate from the Nankai Earthquake Countermeasures Section of the Kochi Prefectural Government's Crisis Management Department to explore tsunami shelter technologies.
The Kochi Prefectural Government is looking into deploying such shelters in light of new seismic damage projections for the Nankai Trough, and has defined these facilities as offering sufficient waterproofing to safeguard refugees even when tsunami temporarily submerge locations.
The schematic designs provide for supplies of air and electricity and access to communications and has three basic formats. One shelter is box-shaped and half underground. The others are an above-ground dome and a cliff cave. Oriental Consultants will formulate proposals that encompass such factors as deployment plans, structural designs, operations to make tsunami shelters a reality.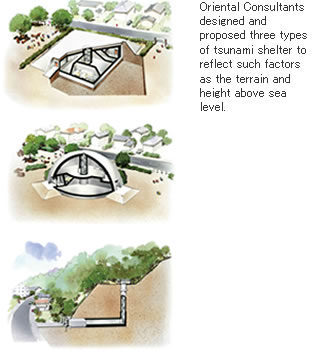 Participating in social experiments with safe, eco-friendly roundabouts
Oriental Consultants participated in social experiments with roundabouts. Europe and the United States pioneered roundabouts in efforts to dramatically reduce accidents at intersections. The firm is evaluating various issues, and is helping to explore the production of guidelines.
Prospective benefits of roundabouts include reduced traffic accidents and environmental impact. Oriental Consultants is verifying such benefits and is pushing ahead with evaluations toward the launch of a new traffic safety business.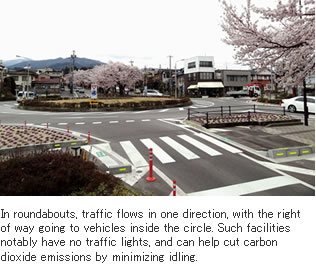 Developing plans for a 66-kilometer four-lane highway crossing the soft ground of a flood plain
Oriental Consultants is continuing work on a commission to plan and oversee the construction of a highway running through the east of Colombo, Sri Lanka's largest city, located in the southwest of the island. The ground along around 40% of the highway will be soft, as it is in a flood area, so the designs ensure that the roadway is sufficiently above prospective flood levels.
By employing the soft ground reinforcement method, Oriental Consultants can constrain residual settlement along the highway to no more than 5 millimeters. Traditionally, the stretch of road near the Kahatudura interchange was virtually impassable every year because of flooding, but Oriental consultants was able to reduce flood levels by a around 60 centimeters through river improvements. The road in this area has remained flood-free since improvements in 2007.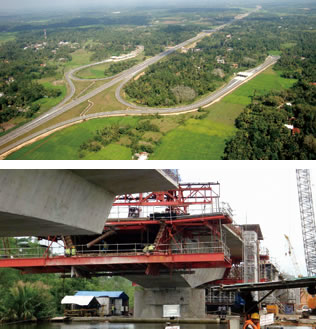 Creating detailed designs of a new structure to replace an aging bridge over the Nile
After starting from Lake Victoria, the River Nile divides Uganda into east and west. The river flows through the capital Kampala from Kenya in the East. The northern corridor of Lake Victoria links neighbors Congo in the west and Rwanda in the south and leads to the Nile. The bridge that Oriental Consultants surveyed is vital infrastructure. The existing bridge was used as part of a dam across the Nile, and had aged considerably, so it became an urgent priority to construct a new replacement. Oriental Consultants received and completed a local government order funded by Japan to produce detailed designs for a new bridge upstream.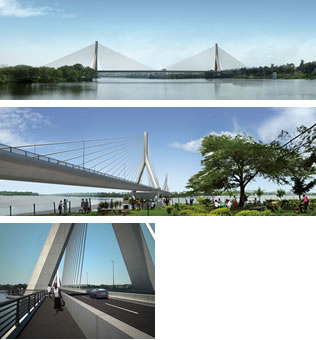 Supporting reconstruction through a new public-private partnership scheme to complete a coastal road in Sanriku
The Sanriku coastal road became a symbol of the drive for reconstruction from the Great East Japan Earthquake, making it an urgent priority to complete the 224 km stretch of new road as swiftly as possible.
The new approach taken to tackle this challenge was the adoption of a public-private partnership. As a supervisor of projects for the Sanriku coastal road, Oriental consultants formed a joint venture with four other firms to handle engineering for one of 10 sections. Work has already started.
A private team of which Oriental consultants is a member comprises property, design, and construction professionals. The team is sharing ideas and expertise with commissioning parties, an approach that should enhance the quality of planning, shorten lead times, and deliver other synergies.