Topics of No.10 (September, 2015)





Leveraging local energy production and consumption through geothermal technology to promote the development of agriculture and produce branding
The city is well known for its sand spas. It is blessed with the geothermal energy that created Ibusuki Onsen and numerous other hot springs. It is also home to Kyushu Electric's Yamakawa Electric Power Plant, Japan's seventh largest power station. In 2015, Ibusuki passed local legislation to ensure that its hot spring resources remain sustainable well into the future, underpinning local industries in the process.
Asano Taiseikiso Engineering Co., Ltd. is leveraging its geothermal and binary power generation expertise to inaugurate a geothermal power business in Ibusuki. It will also use its expertise to supply fresh produce greenhouses with slightly lower temperature water and steam that cannot be used in generating power.
As part of its CSR initiatives, the company plans to offer greenhouse tours and hold harvesting events to publicize the produce and enable people to see how important food is.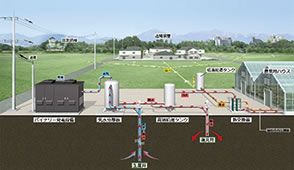 Geothermal energy applications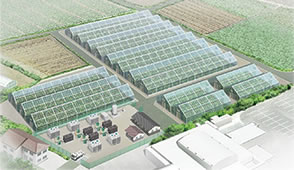 Employing geothermal power in agriculture


Ibusuki aims to protect ample local geothermal energy sources as a shared asset of the municipality and citizenry, ensuring that this energy is used effectively as citizens need it. The geothermal power project is designed to benefit citizens. We look for the project to promote local energy production and consumption, help enhance the local agricultural produce brand, and create new jobs.



Deploying ICT and collaborating with residents to spotlight vulnerable sites to foster community disaster awareness
Unnan is a verdant area between the Chugoku Mountains in the south and Izumo Plain in the north. The Hii River running through it has been likened to a legendary eight-headed, eight-tailed serpent called Yamata no Orochi. Unnan was created through the merger of six towns and villages in 2004. The city's basic philosophy is to become a new hometown in which people and mythologies happily coexist. The goal is to create a city that is safe and secure, vibrant and festive, and which fosters health and longevity and lifetime work opportunities.
As an entity based in Shimane Prefecture, A-TEC Co., Ltd. is taking advantage of community-oriented operations to begin a project to enhance Unnan's disaster prevention capabilities.
The city already maintains a framework for the public and private sectors to jointly maintain the infrastructure. The project will expand disaster prevention initiatives by deploying Information and Communication Technology (ICT). As well as providing consultation on disaster prevention plans, A-TEC will undertake CSR initiatives that include conducting city walks for residents to show them how to identify vulnerable sites, thereby enhancing local disaster awareness.
Through such initiatives, we hope to reinforce self-help, collaboration in the community, and public systems to enhance disaster prevention capabilities so the city is safer and more secure.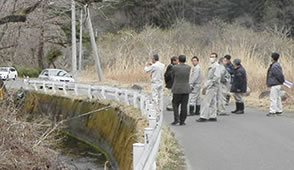 City walk to show vulnerable sites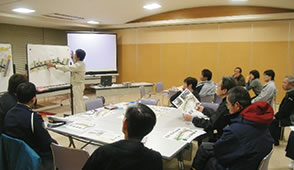 Resident workshop


As part of its CSR initiatives, A-TEC proposed walks with residents to pinpoint hazards in the city. The suggestion perfectly matched the city's goal of creating a safe and secure community. We are very happy to receive this opportunity to strengthen the city's capability.


We look for the walks to foster self-help and collaboration in keeping with our efforts to upgrade the Ayou district's disaster preparedness.



Participating in the management of operating campsites and other leisure facilities and passing down traditions and culture through collaboration with local government and residents
Hakusan abounds in history and tradition. It is home to Mt. Hakusan, one of Japan's three sacred mountains, and Shirayama Hime Shrine, the head shrine of more than 3,000 Hakusan shrines around the nation.
The city also hosts unique local festivals including that at Mt. Hakusan, which dates back to when monks began practicing rites on the holy mountain, and the Senami Kamakura (Snow Hut) Festival.
Chuo Sekkei Engineering Co., Ltd. participates in the management of leisure facilities, and seeks to help revitalize the community through this infrastructure.
As part of its CSR efforts, the company will support activities to engage more with elementary and junior high school students and other local residents in growing, enjoying, and sharing agricultural produce from Hakusan. It will use farms in the city for growing vegetables and selling them through bazaars run by elementary and junior high school students to educate them about nutrition.
Through this collaborative project with the local government and residents, the company aims make the facilities more fun and help pass on local traditions and culture by engaging more with elementary and junior high school students and other local residents.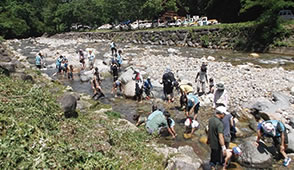 Playing along river near camping site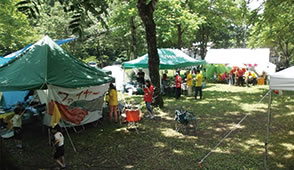 Barbeque and other leisure facilities


In the mountainous area of Hakusan where we live, we face a declining population and aging community. We have been considering ideas to make the area more attractive for younger people and encourage them to reside in the area. I think this collaborative project with the local government and community will help pass down our traditions and culture to younger people and revitalize our community.

Hakurei Elementary and Junior High School is at the foot of Mt. Hakusan. We are endeavoring to enhance our educational environment to nurture the individuality, talents, and creativity of all students so they can contribute to a bright future. We look forward to enhancing children's care for others and the community through this collaborative project with local residents to grow vegetables and educate children about nutrition.



Smartphone communication to broadly support community by promoting tourism and disseminating local knowledge among elementary students
Ukiha is 50 minutes by car from Fukuoka, positioning it perfectly to attract tourists. It has many resources in that regard. They include the best Fuyu persimmon in western Japan and historical ruins and structures, notably ancient burial mounds and traditional thatched roof houses.
Research & Solution Co., Ltd. will start a tourism project to attract more tourists to Ukiha by publicizing its attractions, supporting tours of the city, and creating interesting tour routes. At the same time, it will engage in CSR activities to educate students at several elementary schools in the city about the local culture to increase hometown pride.
Research & Solution will help the community expand local tourism and enhance the local brand by cultivating and publicizing its attractions.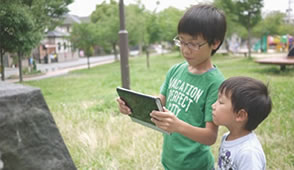 Using tablets to learn about their hometown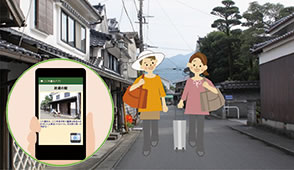 Distributing tourism information and coupons through tourist smartphones


Our challenge in Ukiha was to harness ICT, so this project presented a rare opportunity for us. We are grateful to Research & Solution for suggesting ways to use ICT in education, which is of particular interest for the city. I am convinced that this project will help revitalize the city and to reinforce interaction between people.


From property development to creating smarter facilities
Helping develop international engineers through endowed chair
In recent years, the Republic of Indonesia has achieved economic growth of 5% to 6%, and is expected to continue expanding solidly. Ensuring stable energy supplies is a vital national issue to support such growth. The government is pushing ahead with an energy policy to increase production, conserve energy, and reduce environmental impact.
Over the past 25 years, Oriental Consultants Global Co., Ltd. has been involved with many universities in Indonesia. Since 2008, it has participated in the Hasanuddin University project as a project management consultant, undertaking planning, design, and supervision of bidding and construction. The project has been extended, and the company is launching a smart university initiative for the facilities. Leveraging ICT and deploying renewable energy, the company is helping to comprehensively and optimally manage the facilities. It is also helping to develop international engineers through an endowed chair at the university as part of its CSR efforts, which reflect a desire to contribute further to the nation's economic development.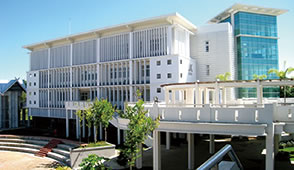 Transforming a core building in the Faculty of Engineering campus into a smart facility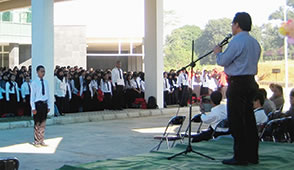 Entrance ceremony at new university facility


We are very grateful for this opportunity to be involved in a smart project for university facilities as a part of your CSR activities. I hope that this project will pave the way beyond smart universities to cultivating smart projects for infrastructure around the nation.


Drawing appointment as designated manager of Gunma Prefectural Shikishima Park to diverse operations with the community
Maebashi is a major city in Gunma Prefecture, with around 340,000 people. Residents love their city, in which the municipal government plays a very active role. In fact, the city ranked* 15th overall out of 812 cities and wards in the nation in terms of municipal government involvement in public administration. In 2014, the United Nation Educational, Scientific, and Cultural Organization put the Tomioka Silk Mill and Related Sites on the world heritage list. The area is poise for development in the years ahead.
Taking advantage of its appointment as a designated management firm of Gunma Prefectural Shikishima Park in April, 2012, Oriental Consultants Co., Ltd. established the wholly owned Oriental Gunma Co., Ltd. in Maebashi in March 2013. The corporate philosophy of that subsidiary is to pursue a shared future with the community. It thus embarked on activities to help revitalize the community. Since then, Oriental Gunma has undertaken a comprehensive project centered on this new subsidiary to revitalize the local area and help create a regional brand and new employment.
Oriental Gunma will step up its operations to enhance local safety and security and make the city more attractive.
* Based on a Nihon Keizai Shimbun survey of 812 cities and wards around Japan in 2013 to evaluate resident-oriented municipal administration.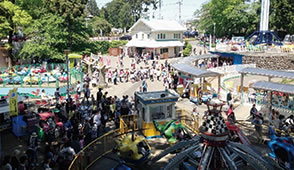 Luna Park, Maebashi's Central Children's Amusement Park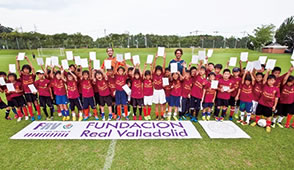 Camp of Real Valladolid Club of Soccer (independent operations)


Oriental Gunma is pursuing ways to create new value as a partner of our city. Its many ideas for Luna Park, our central children's amusement facility, have already benefited citizens and their children. We hope that the company will continue contributing to urban planning with and driving efforts to revitalize the local area.



Constructing national infrastructure in a developing nation to help materialize a comfortable and sustainable society
The Republic of the Union of Myanmar has moved rapidly toward democratization since a new administration took office in 2011, and has attracted investments from around the world. Since restarting a ¥50 billion annual yen-based loan in 2012, the Japanese government has continued to express its support to Myanmar, with funding totaling ¥126 billion by July 2015. Japan is investing extensively in Myanmar to strengthen its influence, including by assisting with development in the Thilawa and Dawei Special Economic Zones in southern Myanmar and through the construction of an international economic corridor. In 2013, Oriental Consultants Global Co., Ltd. established a local subsidiary to streamline its efforts to develop its business in Myanmar. The subsidiary has already participated in several projects, including for a master plan and railroad. In a survey to strengthen the capabilities of Thilawa Port, we are collaborating with a group company to develop that project. We will continue to participate in projects, such as the southern economic corridor to connect Bangkok and Dawei and by constructing arterial roads and railroad in Myanmar, to help create a comfortable, dynamic, and sustainable society.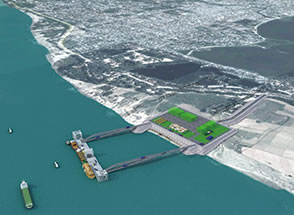 Mandalay Port development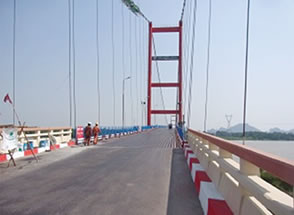 The 884-meter Gaying Bridge in the east-west corridor

●

Project to construct early alarm system for natural disasters (2014)

●

Preparatory survey for reinforcing Mekong international arterial road connections (2013 to 2016)

●

Detailed designs and research for phase 1 of Yangon-Mandalay railway development project (2014 to 2016)